Lamb Sales
Our lambs are pasture raised and grass fed. Our sheep are rotationally grazed at least 8 months of the year. The rest of the time they are fed hay which we produce on our farm. We do not use any chemicals to produce our hay, nor do we feed grain. The hair sheep are very prolific and breed all year long providing a constant supply of lambs. Records of production are kept on the ewes, from which we can help you in your selection of potential breeding stock or the establishment of a flock of your own. For our meat customers, lambs are taken to a local meat market and processed under federal inspection. Arrangements are made to process the lamb to your tastes and specifications. The lamb can then be picked up at a convenient time or we can help with special delivery.
Pumpkin Sales
Our great enjoyment of gardening has "blossomed" into several acres of pumpkins and gourds. We have been "running a stand" for better than twenty years and have many customers that faithfully return every year. It is very satisfying to grow a large assortment of decorations, and we offer many different and unique varieties. Each year, we add something new to our display and sales, so there are always different and exciting things to see.
Returning Customers
Many customers return to our farm year after year to select their fall decorations. We have repeat customers for all of our services and our business has grown wonderfully based on word of mouth.
Lamb sales
Pumpkin and fall decorations
Hay sales
Tours
Hunting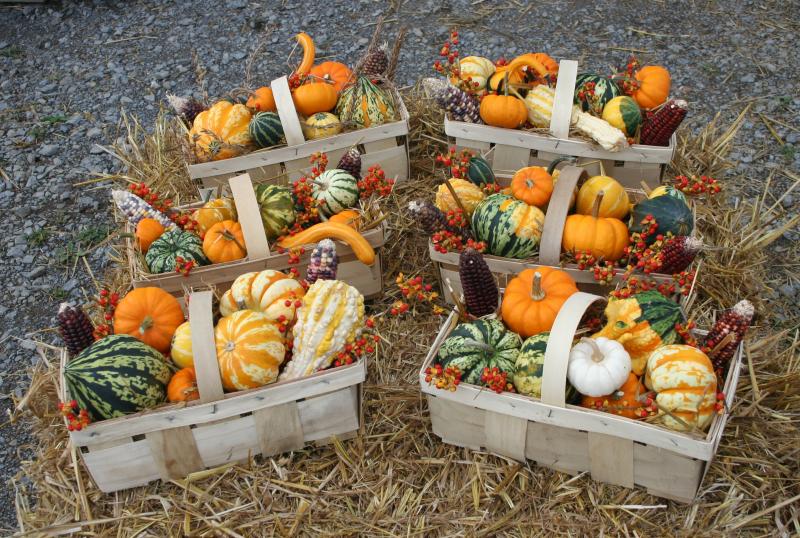 Hay Sales
With our 180 acres and some additional rented ground, we generally have hay for sale each year. We store and offer hay primarily as dry round bales or wrapped baleage. Dry hay is stored inside. Local delivery arrangements can be made.
Baytree Farm
2265 Rockland-Nickleville Road
Emlenton, PA 16373
Phone: 814-671-3922
Tours
We have been doing tours and look forward to each one. Many school classes return every year with a new group of kids. We spend time talking about the animals on our farm and their importance not only to us as the farmer, but to them in their lives. The kids then get to pet or get up close to the animals we have here at Baytree. Tours are not just for children; we adjust the content and material according to the participants and find that adults enjoy the experience as much as the kids!  Recently, I have been asked to speak at Career Days at the local high school.
Hunting
We welcome hunters to enjoy hunting on our farm. We appreciate your contacting us by email at least a day or two before so that we are expecting you. Let us know when you arrive and we will be happy to provide a detailed map of our property.