Special Care for Special Meat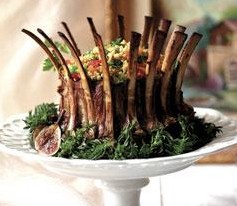 We are very particular in the care of our sheep and lambs. The flock has free access to our pastures for grazing, fresh air and plenty of sunshine. We do not feed any grain, and we never use hormones or antibiotics as an aid for growing our animals. All the hay we feed in the winter is produced here on our farm
Approximate Size
When ready for purchase, our flavorful grass fed lambs are usually 6 to 9 months old; weighing 70 to 100 pounds.  The hanging weight is approximately 35 to 50 pounds of excellent meat.  We have included three examples of ways to have your mouthwatering lamb prepared by the butcher.  These are suggestions only and can be modified in a way that you prefer.
Delivery
We will deliver your selection to our local meat market at no additional charge.  Once there, you will be able to make your own personal choices to best suit your needs.  When the meat is ready, we will help with delivery if possible.  Please contact us to make special arrangements.
What Our Customers Say
"I was delighted with the quality of the lamb we purchased from Baytree Farm. The meat was lean and delicious. Over the years I have purchased lamb from many different providers and this was the very best!"
Linda Flaherty of Sewickley, Pa
"I've eaten lamb since I was a child, but the lamb from Baytree Farm is by far the best I've ever eaten. It is tender, sweet and so fresh. Always the best dinner of the week at our house!"
Kristy Wright of New Castle, PA
Currently we offer the following selections:
Whole premium grass fed lamb, approximately 40/45 lbs hanging weight for $9.00/lb*
One-half premium grass fed lamb, approximately 25 lbs hanging weight for $9.50/lb*
Whole 100% grass-fed mutton, approximately 65 lbs hanging weight for $7.00/lb*
Custom options: we can provide heavier lambs in either category, the price is determined by the additional weight.
(* Prices may vary due to market conditions)
Each whole premium grass fed lamb package includes: 2 legs, 2 shoulders (cut into steaks or roasts), lamb chops, ground meat, stew meat, and 4 shanks. Each lamb will vary slightly.
We are delighted to individualize your order so it is ideal for your needs.